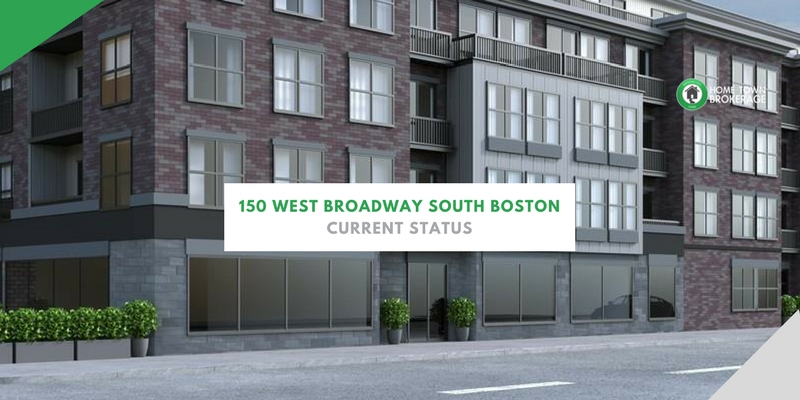 Boasting 24 high-end condos, plenty of on-site parking spaces, an elevator, and common terrace, 150 West Broadway forms the cornerstone of location and design. Located in South Boston, these luxury condos are Now the on track to be finished in early 2018. That said, progress is certainly being made and things are moving along nicely. We have the latest update for you as of December 4th:
The condo is now 33% sold.

The insulation and blue board will start to go up in the next couple of weeks.

The building's brick facade is well underway.
More updates will be forthcoming as we get them. Until then, let's recap what the 150 West Broadway condos are all about.
With more than 180 feet of frontage on two streets, this building offers better natural light than any other current project in the area. The interiors concentrate on floor plans encompassing one, two and three bedrooms that make max use of all available living space. With ample ceiling heights and oversized windows, you'll love the infusion of natural light that brightens any room of the unit as well as helps you cut down on electricity use.
Amenities
Garage parking means you get quick, safe and convenient access to the building. This is critical, especially with the winters that Boston sees! No need to brush off your car when it snows or hassle with finding on-street parking. Simply drive in and park. There's also an elevator in the building for quick access to your floor. Whether you choose a one-, two- or three-bedroom unit, you enjoy a large common outdoor roof deck for entertaining and relaxing. Imagine how nice that will be in the warm months as you take in the view, hang with friends, or just sit and read a good book.
In the condo units themselves, you'll be treated to marble and porcelain tile bathrooms, complete with Grohe plumbing fixtures. In the kitchen, enjoy top of the line Jenn-Air appliances and white shaker cabinets, punctuated by huge open layouts throughout. This open concept is a hallmark of modern living, putting you front and center for relaxation and seamless entertaining. In terms of finishes, you can choose which ones you want so as to truly customize your space.
You also get:
Oak flooring

Oversized windows and sliders

Quartz countertops and custom kitchen cabinets

Glass tile backsplash

Private outdoor balcony for many units

Garage parking for one to two cars
Convenience
Located just two blocks to the Red Line T, you can easily commute to Cambridge or other areas along the Red Line. Thus, you can get into the city and all surrounding neighborhoods in minutes. This ideal location of these luxury condos puts you in the rapidly developing South Boston neighborhood just steps away from the Seaport District and the South End, as well as new restaurants, and a Whole Foods market.
150 West Broadway is just the latest in a strong of luxury condos in the center of a construction boom currently overtaking the city. The Boston Globe says South Boston is seeing an unprecedented influx of median single-family home prices of $680,000 and condo prices of $632,000, a 70 percent change since 2011. To put it in perspective, the median price of a condo is $790,000 up 16 percent from last year and even up to $2 million for luxury full-service buildings.
With an unemployment rate 16 percent lower than the national average and a per capita income 60 percent higher than the national average, Southie makes for a desirable place to set down some roots. South Boston condos fetch about $700,000, well over the prices of its cousins Allston and East Boston at $422,000 and $416,00 respectively. In addition, home values throughout the Boston area are forecast to rise by a percent and a half over 2017. We'll have clearer numbers at the beginning of 2018, but the outlook is favorable for this area of the city.
With 33% of 150 West Broadway condos sold already, you can't afford not to pounce on this opportunity right away. To learn more or to schedule a showing, call Home Town Brokerage at 617-877-1479 or fill out our online form for a speedy reply. Or, search for a property you like in South Boston or any of its neighborhoods, from the Back Bay to East Boston.